The 3rd 1938 World Cup, France
With war clouds gathering over Europe, the third FIFA World Cup™ took place against a bleak backdrop yet football – not least the flamboyantly skilful brand practised by Brazil – provided a shaft of sunshine for the French crowds during a 15-day festival from which Italy, the strongest and most consistent side, emerged as worthy winners.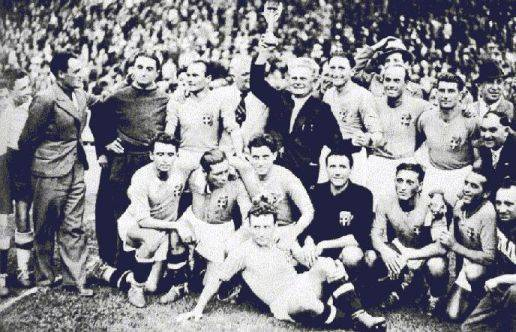 Together with coach Vittorio Pozzo, there were four survivors in Italy's squad from their 1934 triumph and two of them, midfielders Giuseppe Meazza and Giovanni Ferrari, figured prominently alongside star striker Silvio Piola, scorer of two goals in the 4-2 Final win over Hungary that ensured the Azzurri became the first team to successfully defend the trophy.
The 1938 finals proved the last major international sporting event before war broke out the following year. Civil war was already raging in Spain, precluding the participation of one of France's neighbours, while Austria's annexation by Germany reduced the number of finalists from 16 to 15. Instead a number of Austrian players appeared in the German team. Argentina and Uruguay chose to stay away, the former after failing in their bid to host the tournament. Yet Brazil travelled to Europe for the first time and together with Poland they delivered one of the most exciting of all FIFA World Cup games in a first-round contest in rain-sodden Strasbourg.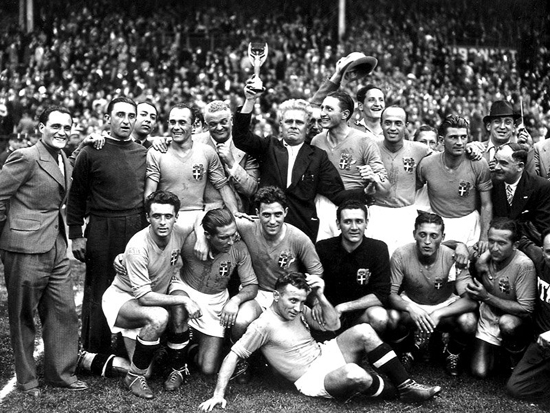 Leonidas scores seven
Brazil forward Leonidas struck a hat-trick as the South Americans triumphed 6-5 after extra time, though spare a thought for Poland's Ernest Wilimowski. He became the first man to net four goals in a FIFA World Cup match, helping his team recover from 3-1 to 3-3 before then forcing extra time at 4-4 – and yet still finished on the losing side. For Leonidas, by contrast, this was merely the start. The 'Rubber Man', as he was known in Brazil for his acrobatic skills, would end up as seven-goal top scorer.
The first round featured the only appearances on the world stage of the Dutch East Indies – hammered 6-0 by Hungary – and a Cuban outfit who stunned Romania, holding them 3-3 before winning a replay 2-1. On target for Cuba in both matches was Socorro - which, meaning 'help!' in Spanish, may well have been the shout from the shell-shocked Cubans during their subsequent 8-0 drubbing by Sweden.
Another highlight of the opening week was Switzerland's defeat of Germany. After an initial 1-1 draw, the Swiss overhauled a two-goal deficit in a 4-2 replay victory. Germany were coached by Sepp Herberger – who would guide them to the title in Switzerland 16 years later – but it was the man on the opposing bench, Austrian Karl Rappan, who attracted the attention here for his use of a sweeping defender in the so-called 'verrou', or Swiss bolt, system, an early forerunner of 'catenaccio'.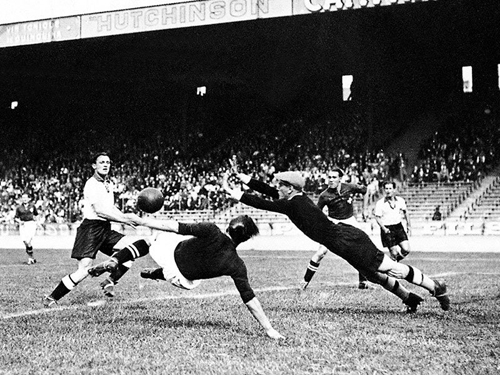 Given the political climate, the presence of the Germany and Italy teams drew anti-fascist demonstrations but while the former headed home early, Pozzo's Azzurri went from strength to strength, seemingly galvanised by a desire to disprove the suggestion that their 1934 success had been solely down to home advantage.
Italy oust hosts
After overcoming Norway with an extra-time Piola effort, the 1936 Olympic gold medallists ousted France in a quarter-final played before 59,000 spectators at an enlarged Stade Colombes outside Paris. The first two FIFA World Cups had gone the way of the host nation but not this time, Piola winning the match with two goals for a team sporting black shirts at the behest of Italian dictator Benito Mussolini.
That was not the only controversy of the quarter-finals, the Bordeaux encounter between Brazil and Czechoslovakia producing mayhem with three red cards and two fractured limbs marring the teams' 1-1 draw. Czechoslovakia goalkeeper Frantisek Planika suffered a broken arm and forward Oldrich Nejedly – the competition's top scorer four years previously – a broken leg, in his case after equalising Leonidas's opening goal.
Leonidas was one of only two Brazil players retained for the replay and he claimed the equaliser in a 2-1 win that took the South Americans to their first semi-final. Yet his coach, Ademar Pimenta, left him out of the last-four showdown with Italy in Marseille – a costly error of judgement as the Azzurri prevailed 2-1 in a disappointingly low-key contest. When Ademir returned for the bronze-medal match he duly struck twice against Sweden, the concluding exploit of a player nicknamed the 'Black Diamond' by the European crowds – a moniker soon to be stamped on the chocolate bar he endorsed on his return to Brazil.
The other semi-final pitted Hungary against Sweden. The Scandinavians were seeking to mark King Gustav V's 80th birthday with a famous victory but instead it was the Hungarians, the competition's most prolific scorers, who celebrated at the Parc des Princes after Gyulla Zsengeller's treble set up a 5-1 win.
That was as good as it got for Alfred Schaffer's Hungary for they were second-best throughout a Final dominated by Italy stalwarts Ferrari and Meazza, the "artisans de la victoire" as L'Auto newspaper described them the next day. Although Hungary's Pal Titkos needed only 120 seconds to equalise Gino Colausi's sixth-minute opener, Italy had built a 3-1 lead by the break with Piola then Colausi again on target, and Meazza the creator of all three. Gyorgy Sarosi gave Hungary hope with a 70th-minute strike but the quick, powerful, prolific Piola extinguished it, his second strike ensuring back-to-back world crowns for the Azzurri.
Teams:
15
When:
04 June 1938 to 19 June 1938
Final:
19 June 1938
Matches:
18
Goals Scored:
84 (average 4.7 per match)
Attendance:
376000 (average 20888)
Winner:
Italy
Runners-Up:
Hungary
Third:
Brazil
Fourth:
Sweden
Golden Shoe:
1: LEONIDAS (BRA)
2: Gyula ZSENGELLER (HUN)
3: Silvio PIOLA (ITA)
3: Gyorgy SAROSI (HUN)
FIFA Fair Play award:
1: Italy
Headlines
International retirements follow Wo...
Top 3 of Previous FIFA World Cups
Year
Winner
Runner-up
Third place