The 2nd 1934 World Cup, Italy
Hosts Italy became the first European winners of the FIFA World Cup™ when the second chapter of the fledgling competition unfolded in 1934.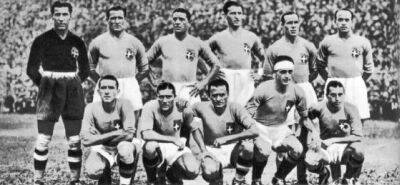 Italy
It was a tournament on a bigger scale than four years before, with eight host cities compared with one and live radio broadcasts taking the action to listeners in 12 of the competing countries. Yet as in Uruguay, it was the home side who took the spoils, goals from Raimondo Orsi and Angelo Schiavio helping Vittorio Pozzo's Italy secure a 2-1 comeback triumph against Czechoslovakia in the Final in Rome.
After the success of the first FIFA World Cup, there was now a 32-team preliminary round to decide the 16 finalists. In the only instance of its kind, Italy had to qualify for their own tournament by defeating Greece. Mexico provided another one-off by travelling to the finals but not playing a single game. Although they had initially beaten Cuba to earn a place, a late application by the United States left the unlucky Mexicans facing another qualifier on arrival in Rome and they lost out 4-2.
Hosts absent
Uruguay were the most notable omission from the lineup of contenders, having declined to participate in retaliation for Italy's refusal to travel in 1930 – thereby creating another footnote in the history books as the only holders not to defend their prize. The South American teams that did make the long journey were soon bound for home as Argentina and Brazil, both fielding under-strength sides, suffered first-round losses to Sweden and Spain respectively.
Argentina, who featured no survivors from 1930, had been unhappy to lose several key players to Italian football, among them midfielder Luisito Monti, who had appeared in the Final four years earlier. He would now play his part in Italy's victory along with Atilio DeMaria, Enrico Guaita and Orsi – all fellow 'oriundi', players of Italian descent now returned from South America.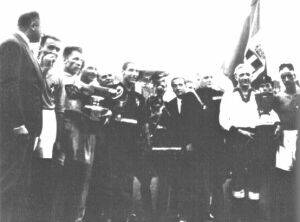 Orsi scored twice and Schiavio a hat-trick as Italy, well prepared by the authoritarian Pozzo, made an emphatic start by thrashing the United States 7-1 in Rome. It was the biggest win of the tournament but not the only eye-catching performance of the first round. Egypt, the first African representatives on the world stage, retrieved a two-goal deficit against Hungary before eventually succumbing 4-2. France, meanwhile, supplied unexpectedly obdurate opposition for Austria, taking the lead against the Wunderteam before losing out 3-2 after extra time.
Austria underline credentials
Austria rivalled Italy for the tag of tournament favourites. Coach Hugo Meisl had refined the short passing game introduced to central Europe by Englishman Jimmy Hogan and, with an attack orchestrated by the so-called 'Paper Man', the frail but graceful Matthias Sindelar, they had underlined their credentials by beating the Italians 4-2 in Florence four months before. However, there was little opportunity for flowing football in an ill-tempered quarter-final success over neighbours Hungary that was likened to a "street battle" by one contemporary account.
Nor did the conditions facilitate their favoured passing game in the ensuing semi-final against Italy where Sindelar's threat was stymied by the close-marking Monti. On a wet, heavy pitch, the hosts prevailed through Guaita's solitary first-half strike, showing admirable stamina in what was their third match in four days following a hard-fought quarter-final contest with Spain.
The Azzurri had battled back to draw 1-1 with Spain when the sides met on 31 May. Twenty-four hours later they squared off again – with Spain goalkeeper Zamora absent from the much-changed lineups – and this time Giuseppe Meazza, a forward so good they named the San Siro after him, scored the only goal. The Spanish headed home pointing to disallowed efforts in both games but that did not matter to an Italian public swept up in a mood of nationalistic fervour.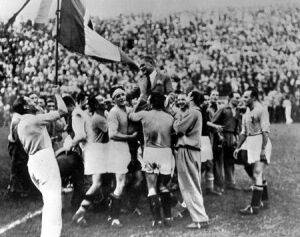 Italy
Home support
Of the 367,000 spectators who passed through the turnstiles, more than half of that number were for the home nation's five matches, which averaged 37,600 fans. Such was the desire of Italy's fascist leader Benito Mussolini to showcase his country's strengths, he even had an additional trophy commissioned – the Coppa Del Duce, whose dimensions dwarfed the real thing.
Italy's opponents in the Final in Rome on 10 June would be Czechoslovakia. Like Austria, they were pupils of the 'Danubian school' of short passing and had noted performers at both ends of the field in goalkeeper Frantisek Planicka and forward Oldrich Nejedly, whose five goals earned him the Golden Shoe. After a narrow first-round victory over Romania, they had needed to come from behind to defeat Switzerland 3-2 in the last eight, Nejedly grabbing a late winner. The same player's hat-trick then secured a 3-1 semi-final triumph over a Germany side who gained some consolation by claiming the bronze medal at Austria's expense.
Nejedly did not score in the Final but Puc did, the Czech winger stunning most of the 50,000 crowd in the PNF Stadium with a low drive that put the underdogs ahead with just 14 minutes remaining. Italy almost conceded a second when Svoboda struck the frame of the goal but instead, in the 81st minute, they were level as Orsi's freakish shot swerved past Planicka.
Into extra time and Pozzo showed he was more than a mere disciplinarian, his instructions to Guaita and Schiavino to switch positions bearing fruit as the pair combined for the winner. From Meazza's cross, Guaita played in Schiavino and he found the back of the net. Italy were world champions for the first time.
1934 FIFA World Cup Italy ™
Teams:
16


When:
27 May 1934 to 10 June 1934
Final:
10 June 1934
Matches:
17
Goals Scored:
70 (average 4.1 per match)
Attendance:
358000 (average 21058)
Winner:
Italy
Runners-Up:
Czechoslovakia
Third:
Germany
Fourth:
Austria
Golden Shoe:
1: Oldrich NEJEDLY (TCH)
2: Edmund CONEN (GER)
2: Angelo SCHIAVIO (ITA)
Headlines
International retirements follow Wo...
Top 3 of Previous FIFA World Cups
Year
Winner
Runner-up
Third place