The 5th 1954 World Cup, Switzerland
Surpassing the shock of Uruguay's triumph four years earlier, West Germany became world champions in Switzerland by ending the proud 31-match unbeaten record of Hungary's 'Magical Magyars' in a Final forever remembered as the Miracle of Berne.
In the shadow of the Alps this was a mountain-sized upset, the Germans retrieving a two-goal deficit to record a 3-2 victory over opponents who had beaten them 8-3 just a fortnight before. Jules Rimet, the outgoing FIFA President, handed the eponymous trophy to Fritz Walter and the football world absorbed an important new lesson: never, ever, write off the Germans.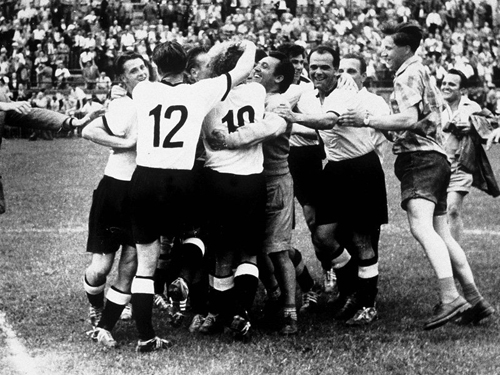 'The Galloping Major'
Hungary went into the 1954 finals with the unofficial title of best team in the world. Olympic champions in 1952, they had recorded 23 wins and four draws during the preceding four years - their most celebrated victory a 6-3 humbling of England in November 1953 whereby they became the first foreign visitors to triumph at Wembley. The brightest star in the Hungarian firmament was Ferenc Puskas, the 'Galloping Major' with the fearsome left foot from the army team of Honved.
Gusztav Sebes's side featured a rich seam of talent - notably Puskas's fellow forwards Sandor Kocsis and Nandor Hidegkuti, and midfielder Josef Bozsik - and played a brand of fluid attacking football that was ahead of its time, Hidegkuti dropping deep behind Puskas and Kocsis in a prototype of the 4-2-4 formation. Hungary warmed up by routing England 7-1 in Budapest and they notched 17 goals in their two first-round victories, 9-0 against Korea DPR and 8-3 over West Germany. Yet this latter result proved less instructive than it may have initially appeared.
The tournament's format was such that the two seeded teams in each group played only the two non-seeds, and vice versa. Hence Sepp Herberger, the Mannschaft coach, went into the Hungary game knowing his side could lose and still progress in second place by winning a play-off against the section's other seeds, Turkey, whom they had already beaten 4-1. Herberger thus made seven changes, saw his charges lose heavily, yet then guided a much-strengthened lineup to a 7-2 play-off win against Turkey that took them into the quarter-finals.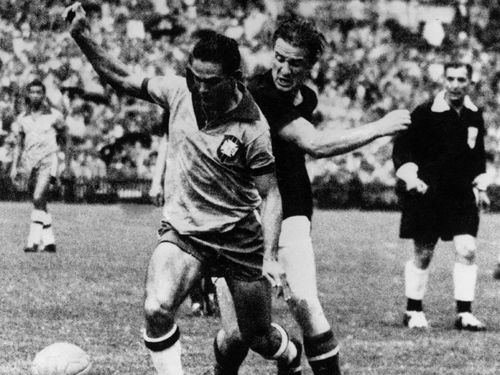 Flood of goals
Given that this pool alone produced 41 goals, it is little surprise the Swiss showpiece became the highest-scoring FIFA World Cup™, with 140 goals in 26 matches at an average of over five per game. A tournament record of 12 hit the net in one match alone, the quarter-final between Switzerland and Austria where the hosts led 3-0 inside 19 minutes, conceded five during a ten-minute spell before the break and ended up losing 7-5.
Despite the goal rush, however, newcomers Korea Republic and Scotland both registered blanks as they finished bottom of their respective groups.Scotland had lost 7-0 to Uruguay and the holders achieved a British double by eliminating England in the last eight. Both teams featured a 39-year-old - Obdulio Varela appearing for the South Americans, Stanley Matthews for England - but despite the latter's promptings, Uruguay prevailed 4-2 with both Varela and star forward Juan Schiaffino, a scorer in the 1950 Final, featuring among the goals.
Uruguay's next opponents would be the winners of the Hungary-Brazil quarter-final. The Brazilians were sporting their famous yellow shirts - the product of a newspaper competition to design a new kit - for the first time in Switzerland but their hopes ended in a stormy contest subsequently dubbed the 'Battle of Berne'. Golden Shoe winner Kocsis struck two of his 11 goals in Hungary's 4-2 win but the match was marred by red cards for Bozsik and the Brazil pair Nilton Santos and Humberto, not to mention a post-match brawl in the changing rooms.
Two extra-time headers from Kocsis then helped Hungary record an identical result against Uruguay in a classic semi-final. The Celeste, victorious at their two previous FIFA World Cups, recovered from 2-0 down through a double from Juan Holberg before finally succumbing to a first defeat on the world stage. While the Hungarians had faced two draining duels, West Germany progressed smoothly to the Final, defeating Yugoslavia 2-0 and then dismissing neighbours Austria 6-1, with Kaiserslautern-based brothers Fritz and Ottmar Walter both scoring twice.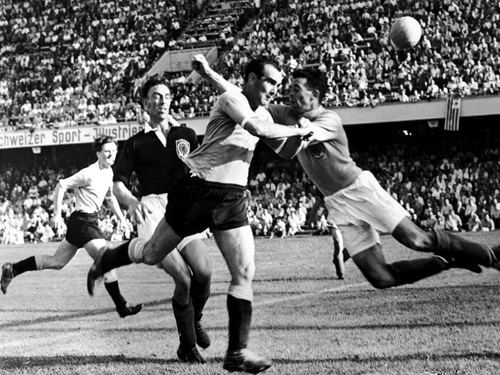 Fritz Walter weather
So to the Final at a rain-soaked Wankdorf Stadium on 4 July 1954. The weather was a positive portent for a German side whose skipper, goalscoring midfielder Walter, was known to struggle in the heat following a war-time bout of malaria. Indeed these were the precise conditions German sports fans knew as 'Fritz Walter weather'.
By contrast Hungary had doubts over the fitness of Puskas, absent from their last two matches after a kick on the ankle by Werner Liebrich when the teams last met. Though not fully fit, Puskas opened the scoring after six minutes and within 120 seconds, the favourites led 2-0 after goalkeeper Toni Turek spilled the ball at Zoltan Czibor's feet. Yet by the 18th minute, West Germany were level, Morlock's far-post finish followed by Rahn turning the ball in from Fritz Walter's corner.
The rain came down, the tension rose and only the woodwork denied Hidegkuti. But with six minutes remaining, Rahn gathered the ball on the edge of the box and drove a left-foot shot into the far corner. There remained time for Puskas's reply to be ruled out by a linesman before the final whistle confirmed the unthinkable: Hungary were beaten and a new world power born.
Teams:
16
When:
16 June 1954 to 04 July 1954
Final:
04 July 1954
Matches:
26
Goals Scored:
140 (Avg 5.4 per match)
Attendance:
889,500 (Avg 34,211)
Winner:
Germany FR
Runners-Up:
Hungary
Third:
Austria
Fourth:
Uruguay
Golden Shoe:
1: Sandor KOCSIS (HUN)
2: Sepp HUEGI (SUI)
2: Max MORLOCK (GER)
2: Erich PROBST (AUT)
Headlines
International retirements follow Wo...
Top 3 of Previous FIFA World Cups
Year
Winner
Runner-up
Third place